Online Accounting Security

We understand that security is of the utmost importance, and provide users with state of the art technologies in information, physical and data storage environments.
SAS 70 Type II Certified Data Center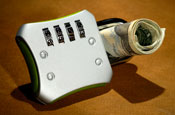 All of our servers, backups, data centers and tech support are based in the United States. None of our IT or engineering is outsourced or sent overseas, ever. Automatic off site backups are done nightly and kept for a minimum of 1 year.
Each time any user logs into the system to access data it is thru 128 bit encryption offering you peace of mind in the security of your transfer. With the same security as Online Banking, your data couldn't be safer.
Our 80,000 square foot data center is a SAS 70 Type II certified center that features:
12+ Megawatts of uninterrupted power
Cisco firewalls
Cisco routers
Mirror disks
Rain implementation
N+1/2N or better Redundancy
Biometric hand scanner
CCTV Digital Surveillance
Motion Detection on all data center floors
Seamless private Layer 2 transport